How to set up a retouching business online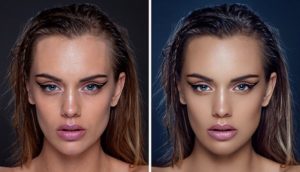 If you are well versed in the use of Photoshop, then you will be able to start an online business of retouching pictures with only a small amount of funding. The only thing that you need is a good laptop or PC that will be able to handle the load of high-performance programs such as Adobe Suite and other digital studios, and a good internet connection to stay connected with your clients.
The second step is to make sure that you have a dedicated website. This can be done by using a simple web host and then uploading or creating a WordPress website. One of the easiest ways of doing it by using the built-in feature that the web host "Bluehost" provides. Your website should advertise your best work in form of an online portfolio and it should give links to your social media pages. It should also feature your reviews that satisfied customers have given and it should give visitors the ability to hire you through an online form.
The next thing is to get your profiles up on freelancer websites such as fiver and upwork. Make sure you set up your profile to reflect that your expertise is retouching professional engagement photos and photographs of weddings. Soon the orders will start to come in. They will be slow at first but soon they will be as much as you can handle. Make sure that you are not late in your work, as many of these website ban people who are habitually late in delivering work.
The fourth step is to start advertising through Facebook and other online websites, as well as politely asking your first clients to spread the word. The simple word of mouth works wonders when it comes to something as intimate as wedding and proposal photoshoots, so people will trust the judgment of their friends and relatives, and you will be able to get new customers who are either related to your previous customers or they are in their social circle.
A simple advice in this regard is to make sure that you give your best to retouch your client's wedding pictures. If your work is good enough, you will soon receive customer calls from people who have told you by your previous clients, so make sure that your profiles are accessible, your portfolio reflects your best work, and you are giving it your best; and you will have a nice and steady flow of work the year round.